Talsi Christian School | Latvia
Inguna Gruznina | Founder and Principal
Talsi Christian School was opened on September 1, 1995, with five teachers and 37 students in the 1st - 4th grades. The building was miraculously purchased through the generosity and shared vision of many American Christians. Renovations made the building the first wheelchair-accessible school building in the entire western part of Latvia. The school has expanded to grades 1-12 and is equipped with a chemistry lab, computer lab, home economics room, gymnasium, and much more.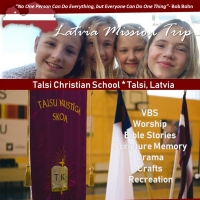 Today, there are 240 students and 30 teachers. This school serves as a meeting place for handicapped adults, as well as children, and provides a great ministering opportunity to them and their families. In the summer, Talsi Christian School sponsors orphan, youth, sports, and VBS camps. These camps are attended by children and youth from all over Latvia. All of these miraculous ministries could only happen because of the giving heart of American Christians.
We pray and hope that God will bless our relationships because His work in Latvia is not yet done. People in Latvia need Jesus. We pray that God will use TKS and American Christians to win souls for Him and to help Latvian children have hope for the future. Talsi Christian School is a beacon of light to the country of Latvia (formerly part of the Soviet Union).
Click here for more info!
The Abrmans | Slovakia
Slovak Republic Missionaries
Jozef and Anna were both born in communist Czechoslovakia before the regime collapsed in 1989. Jozef defected the country in 1980 at the age of 19. Soon afterward he became a member of Parkwood Baptist Church in Houston, Texas, and a missionary with Trans World Radio.
For the next ten years, he broadcast the Gospel back to his native land. In 1990 Jozef and Anna said "yes" to each other as they stepped into their marriage uniquely pre-arranged by Jozef's parents. Shortly afterward, they moved to Slovakia, just a few months after communism's fall. They have two sons, Mark and Matthew.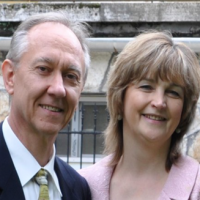 Today, they live in the city of Trencin where their ministry is based as they reach especially the young generation for the Lord Jesus Christ. Here, they also planted a new church. Jozef's hobbies are cooking and reading books. Anna's hobbies are gardening and handcrafts. She also ministers to ladies and children through her handcrafting clubs held regularly in the local Cultural hall as well as at home. She is also very busy serving the many guests who often stay at the Abrman's home.
Contact: josephabrman@gmail.com